Hughes OH-6A USNTPS 1:72
02Oct06 21:55 Filed in:
Hobby
maybe my next rc helicopter will be one with a semiscale body. That's why I have searched the web for interesting heli models. One that pleased me is the one from
USNTPS
.
However before I go out and buy such an rc heli I will build one (or two) as plastic kits, it costs far less than the "real" thing. There is currently only one kit available from
Italeri
. I know there are other Hughes types (MD-500D, Little Birds) around but I was searching for a kit with the V-tail.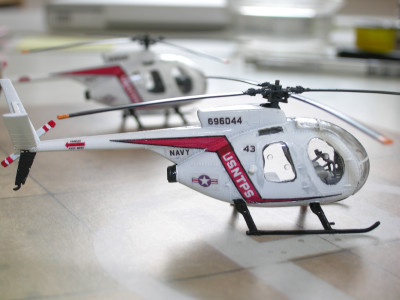 Next I had to made my own decals. This was new to me, I haven't done that before. Designing and printing them worked seamless. But when applying them to the models they didn't adhere to it. I haven't any idea what went wrong, if you have any suggestions please let me know.
At the end I finished the number 43 and 45 of these helicopters (
more photos
as usual on my flickr account).