Heinkel He-219 Uhu (1:72)
08Jan11 22:28 Filed in:
Hobby
a long-term project is nearing its end

this model was sitting on my bench for almost eight years now awaiting its painting. During the xmas vacation I tackled this tricky job.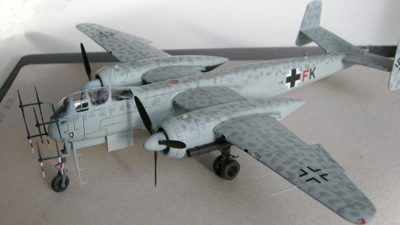 I did this model already at the age of 14 but it ended in a mess. When Tamiya showed the Heinkel He-219 in the scale 1:48 my decision was clear: building the "Uhu" again but in 1:72 and as close as possible to the Tamiya kit. I bought the best possible kit around, the DML Dragon 'Golden Wing Series' He219A-7 along with all the various aftermarket sets that make sense. In 2003 I finished the cockpit part with additional details.
For me the most critical part was the painting of the mottles at the top of the model. During the last years I could improve my airbrush equipment and skills a little bit. And so the model gets its painting last week. Now it needs only a little weathering and some kind of diorama around it but this shouldn't take another eight years. Stay tuned ..