OH-6A (Dragon kit) finished
02May08 10:10 Filed in:
Hobby
In the last year various heli kits in 1:35 came to market. It is amazing to see the details possible in this scale so I decide to start building such a kit myself. Since one of my favourite helis is the Hughes OH-6 I searched for a Dragon kit and I got one on ebay in december last year.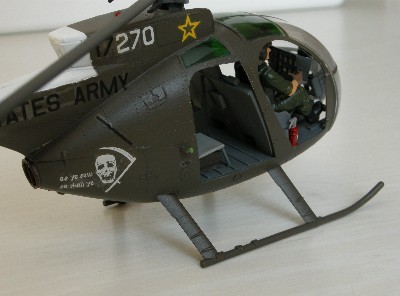 This kit is now
finished
but I am dissapointed somewhat. Because it is from the 90s there aren't such fine details as today. Luckily I found a detail set from Eduard to get a few details inside (cockpit, harness, ..) and outside. Next were the decals, because they are of age it was almost impossible (for me) to get them from the paper to the model and even if I sprayed it with a gloss primer first there were these ugly silver shadows on a few of them. Maybe there will be a new kit of an OH-6A in 1:35 in the future with all the bells and whistles. Then I'l buy one for sure.